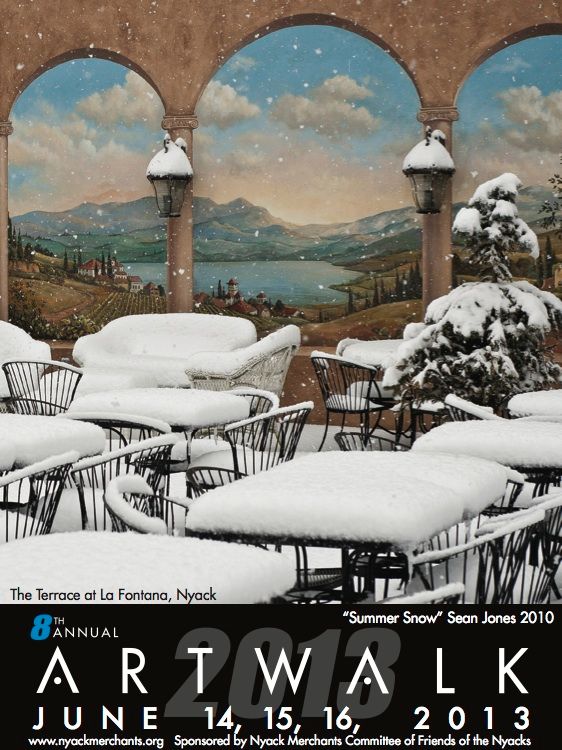 The Merchants' Committee of Friends of the Nyacks is proud to announce ART WALK 2013.
This year's theme is "MOTHER NATURE – HER BEAUTY & HER WRATH" and marks the 8th year of the event in the Village.
"Summer Snow." by Nyack's artistic photographer Sean Jones, beautifully captures the theme of Art Walk. With the aide of form, light, color and geometry, Sean aims to visually entice the viewer to slow down and fully experience the moment. Signed and numbered posters, as well as the original, will be available at p.ross, 89 Main Street, Nyack. The cost for a poster is $50.
All of our artists this year artist will create a piece expressing their interpretation of our theme, and, along with their other works, will highlight these pieces in their assigned venues.
Our first interactive exhibit "Shell We Art?" by Bill Rauschenberg, of Upper Nyack, will take place on the lawn of First Reformed Church corner of Broadway and Burd on Saturday, June 15, every hour starting at 1pm and ending at 5pm. Rauschenberg's "Art Machine" explores the definition, boundaries, and point of view of what makes something "art." This unique art explosion will allow you to enjoy the surprise of creation and ponder the question…"Is it or isn't it Art?"
ART WALK creates an enjoyable atmosphere where stores are turned into mini art galleries with the artists in residence. Stroll up and down the streets of Nyack, view and/or purchase the works by these wonderfully talented artists. Shop in the stores, eat, drink and enjoy the beauty and richness that is the Village of Nyack.
There will be free parking all day/evening Saturday, June 15th in the big parking lot behind the Riverspace Theatre on Artopee Way thanks to the generosity of the Mayor and the Nyack Village Board.
For more information visit: call Paulette Ross @ p.ross 845-348-1767 or visit www.nyackmerchants.org.