The 2015 John Scott ArmChair Walking Tours
The Historical Society of the Nyacks and the Friends of the Nyacks announce the first program for the 2015 Spring season of the John Scott Armchair Walking Tours. This popular program, now in its twentieth year, features slide presentations on local history, architecture and related cultural subjects. The Armchair Walking Tours are dedicated to the memory of John Scott, Rockland County's great historian. The programs are produced by Bob Goldberg and Brian Jennings.
The first program takes place next week:
Wednesday evening April 8th, 7:00 p.m. at the Nyack Library (59 S. Broadway, Nyack NY 10960)
Thursday afternoon, April 9th, 2:00 p.m. at the Valley Cottage Library (110 Route 303, Valley Cottage, NY 10960)
In the first Armchair Walking Tour, Bill Batson, author of the Nyack Sketch Log and the artist-in-residence at the Nyack Farmers' Market, will present a history of Nyack in 55 images from his recently published compilation of his shorts essays and sketches. Batson is also chair of the Nyack Commemoration Committee and will discus the plan for a May 18th dedication in Memorial Park of the Toni Morrison Society's Bench by the Road honoring local Underground Railroad conductor Cynthia Hesdra.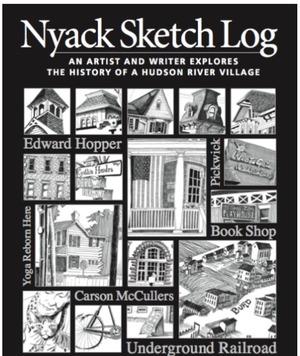 Copies of the
Nyack Sketch Log
book will be available for purchase at the event.
Seating is limited and attendees should pre-register by calling or going online.
(Nyack Library: 845-358-3370 www.nyacklibrary.org; Valley Cottage Library: 845-268-7700 www.vclib.org).
For more information, please contact Bob Goldberg at 845-268-3838.